SNOWDONIA OUTDOOR ADVENTURE
About Kathryn James MIC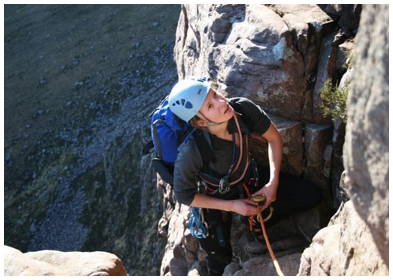 Kathryn holds the MIC (Mountain Instructor Certificate), she is a full member of AMI (Association of Mountain Instructors), she is a registered member of the Mountain Instructors Community. The qualifications Kathryn holds allows her to work in all conditions in Great Britain and Ireland, Summer and Winter. Kathryn's personal climbing experience throughout Great Britain, Europe and other parts of the world combine to give her a solid base to help you on your adventures in the mountains. Kathryn is also a qualified kayak and canoe coach (Level 2), Artificial Ski Slope Instructor and Alpine Ski Course Leader.


Climbing and being in the mountains is something which Kathryn is passionate about. She enjoys sharing this passion with her clients. Kathryn's climbing has included some notable ascents - North Faces of The Eiger; Piz Badile and Aiguille Verte, Pilar Sud on the Barre des Ecrins; Point Five Gully on Ben Nevis, The Nose on El Capitan, Yosemite, Left Wall in Llanberis Pass and The Old Man of Steor.
After graduating from a Geography (BSc) degree at Aberystwyth University, Kathryn's instructional career began with a successful and enjoyable period of time spent working at Plas y Brenin, The National Mountain Centre in Snowdonia. She has continued to work at Plas y Brenin and for other companies offering specific climbing and mountaineering skills courses as well as national governing body award training and assessments. In contrast to this she has experience of working with young people at education centre's, these include Kent Mountain Centre, Marle Hall OEC, Ogwen Cottage OPC and most recently at Plas y Brenin, the National Mountain Centre. Combining work with young people and adults has allowed her to gain experience in working with a variety of ages, abilities and motivation levels. Through work at Ogwen Kathryn has spent a great deal of time using outdoor adventure as a vehicle for personal and social development. This range of experience has enabled her to think a great deal about the teaching methods she uses and make them appropriate to the students or clients on a particular course.